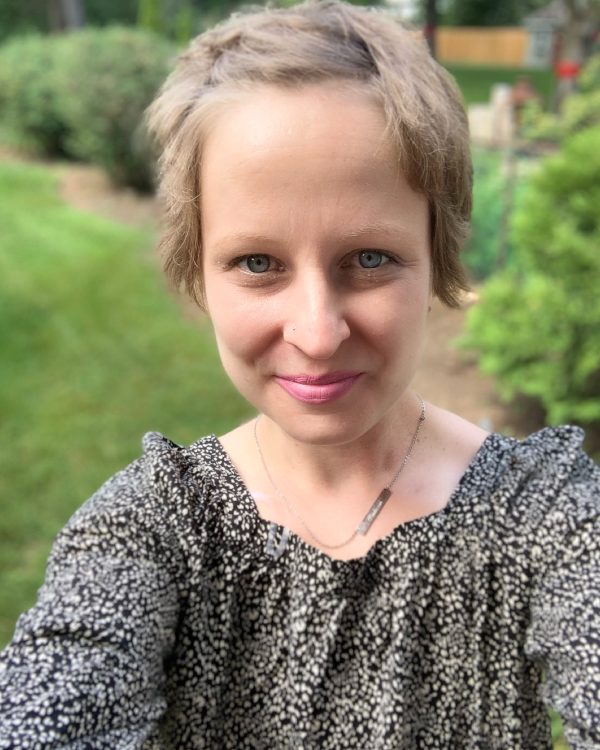 "I was 11 years old when I first stepped into the world of cancer. In February 1999, I was diagnosed with leukemia. I underwent two years of chemotherapy at McMaster Hospital, cranial radiation and two surgeries. At this time, my family and I were supported through organizations like Child Life, Help A Child Smile and Camp Trillium. I found camp particularly helpful as it enabled me to connect with other survivors, who understood what it was like to go through chemo and have regular hospital visits as part of your childhood.
Once I reached adulthood, I assumed that I had closed this significant chapter of my life. I never imagined I would be diagnosed again at the age of 32 with Her2 Triple Positive Breast Cancer. Having a cancer diagnosis, especially during COVID, can feel lonely and isolating. Although my family and friends were supportive and emphatic, I knew they could never fully understand what it is like to endure the side effects of chemotherapy, attend endless appointments masked and alone, plus lose all the physical traits that made me feel feminine, like my hair and breasts and the ability to carry a second child or attend my job regularly, essentially putting an end to the life I thought I would have. 
When I was first diagnosed with breast cancer, my main contact were the hospital staff where discussions focused on my treatment plan and did not include mental health resources. For example, I had to self-advocate for counselling, and I was connected to a breast cancer thriver through family, who then told me about amazing organizations like Pink Pearl who support women in my position. I felt so encouraged knowing there were programs and services out there for young women battling cancer. That same night, I looked up Pink Pearl, their information package and eventually signed up for a virtual retreat. For the first time in months, I felt hopeful.
Since being diagnosed I have also had a previous co-worker and a friend of my sister reach out to me. Both women were diagnosed with cancer shortly after I was and we were connected through friend networks, further proof that women long for connection and benefit from sharing their experiences. We now regularly communicate via phone, text message and FaceTime as there is nothing more encouraging or more supportive than talking with someone who can say "I get it, I understand, and I am here for you". Communicating with these two friends has given me an outlet to share my experiences and to offer my perspectives and hear that of other's and to share and receive tips for thriving in this complicated and stressful world. Having and attending a support group has provided me with a sense of purpose and comfort and I hope to continue in a supportive role with Pink Pearl."
– Ashley, Program Participant & Ambassador