Volunteer Perspectives
Meet our incredible volunteers. Read their perspectives. Learn how they positively impact Pink Pearl.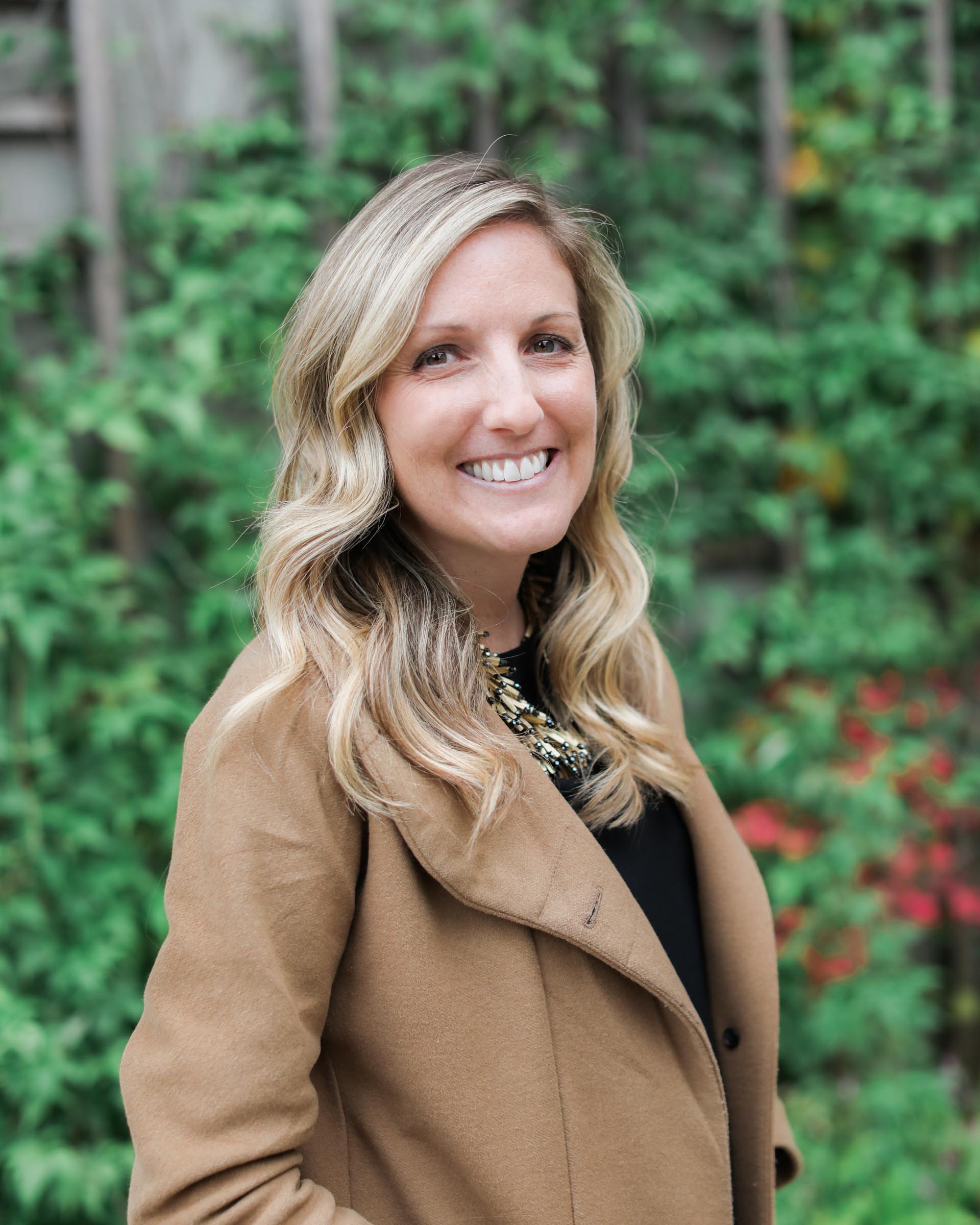 Meet Laura, Our Board Member
Board of Directors Member & Nursing Advisor
Biography:Laura is a Clinical Nurse Specialist in the Adolescent and Young Adult (AYA) Program at Princess Margaret Cancer Centre. She became involved with Pink Pearl Canada in 2014 when developing the Princess Margaret AYA Program and this has become a growing partnership since that time. Given that Laura meets with many young women at diagnosis, she ensures that Pink Pearl support packages are given to patients and that they are aware of the support programs available to them. She also spends time educating other staff around the resources available to patients through Pink Pearl. More recently, Laura has been working with Pink Pearl to facilitate partnerships with other healthcare organizations across the country to ensure more young women have access to their resources and services. Laura will also be moving into her second year as a Board Member for the organization and has been able to provide guidance and insight from the healthcare system perspective.
What inspired you to become part of Pink Pearl? Given that we only have so much capacity at Princess Margaret to deliver AYA-specific support programming, I heavily relied on our community partners to support us around programming for patients. Pink Pearl is one of its kind in Canada, offering incredible peer support programs for young women with any type of cancer. The dedication of both Elise and Melaina Gasbarrino to Pink Pearl and its community of young women in addition to the positive impact Pink Pearl has on our patients, has inspired me to give what I can to support their initiatives.
– Laura Mitchell, BOD Member & Nursing Advisor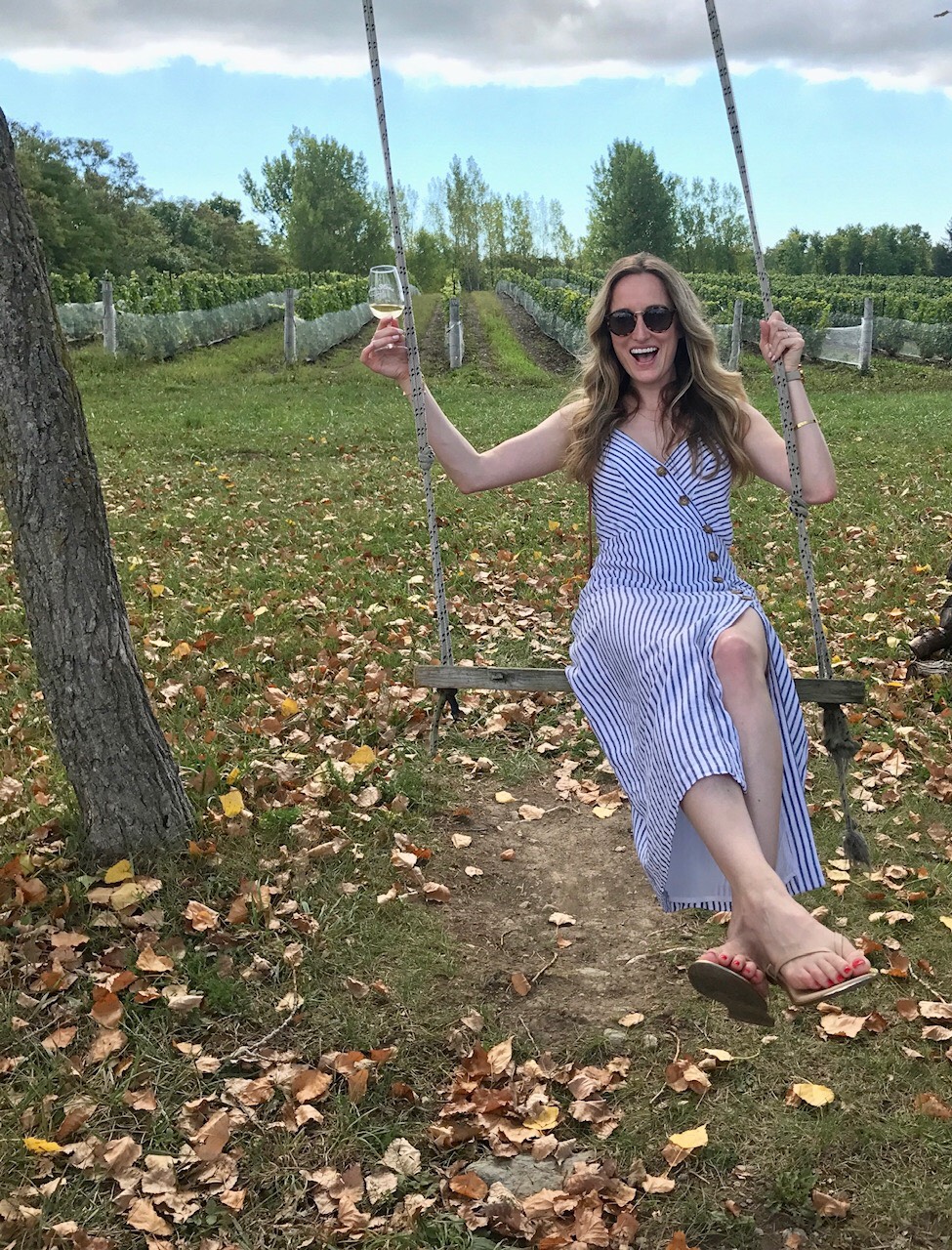 Meet Ashleigh, Our Events Team Volunteer
Events Coordinator
Biography: I live in Toronto with my husband, and have worked for the past several years in marketing, sales and change management for a large CPG company. Before that, I attended Wilfrid Laurier University, where I obtained a Business degree and was fortunate to have met some of the amazing women who I now work closely with at Pink Pearl. I love to learn new things, do crafts (especially for Black & White!) and spend my free time travelling, doing yoga, and experiencing all that Toronto has to offer.
What inspired you to become part of Pink Pearl? I went to university with Pink Pearl's Founder, Elise Gasbarrino, and attended the first few Black & White Affair events in Niagara as a guest and supporter.  When Pink Pearl began doing B&W in Toronto, I knew I wanted to get involved in the organization. I have helped plan several "B&W with a Touch of Pink" events, from venue sourcing, to sponsorship to day-of execution.  I feel so proud to be involved in Pink Pearl, and have been so inspired by the many strong, amazing women I have had the privilege of meeting over the past few years.
– Ashleigh, Events Coordinator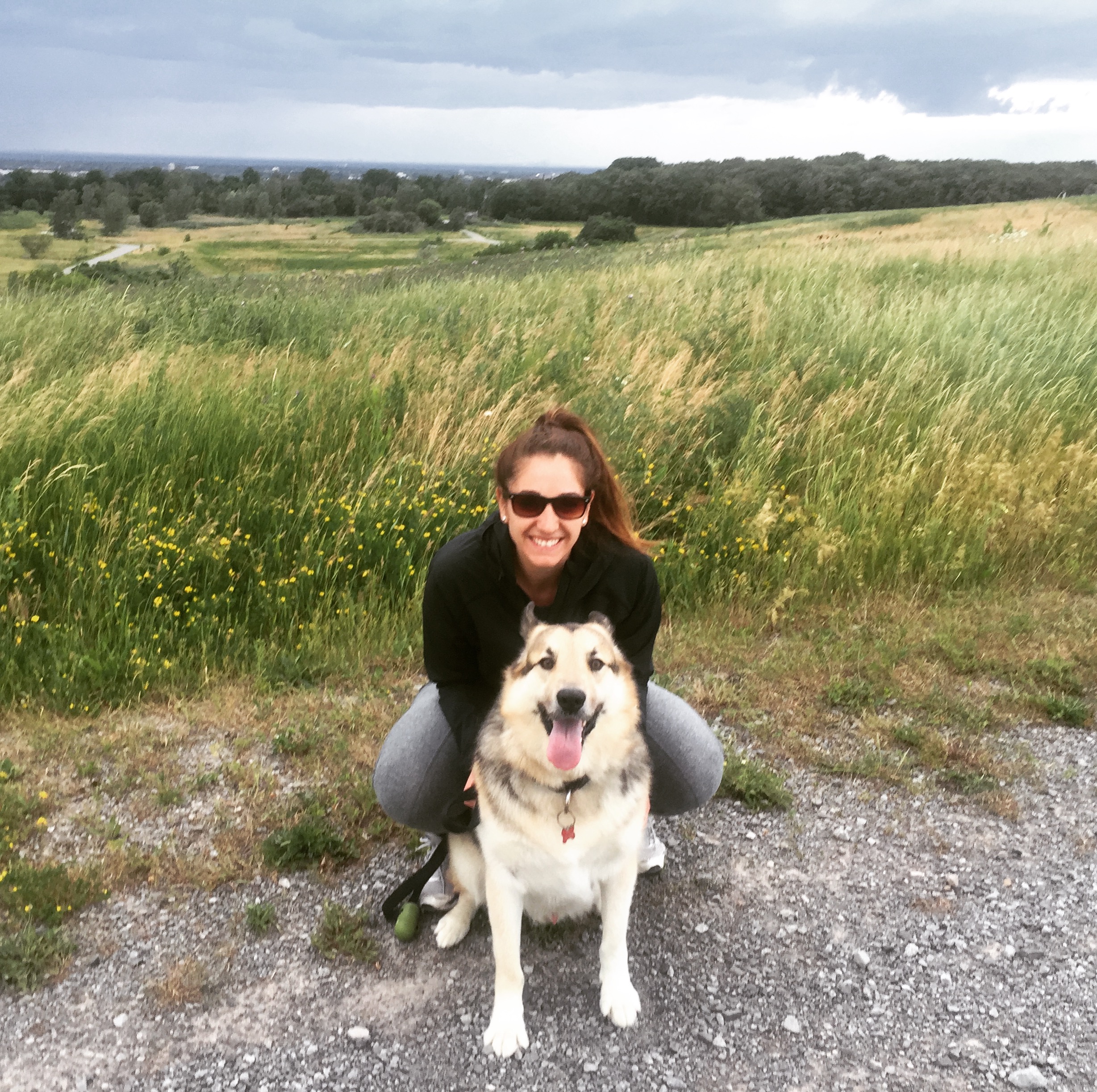 Meet Stephanie, Our Programs Team Volunteer
Programs Logistics Co-ordinator
Biography: For the past five years, I have worked at Niagara College and have been involved with a variety of non-profit organizations within the Niagara Region. I have always loved giving back to the community in anyway I can. From the onset of Pink Pearl, I've volunteered with the Programs team, coordinating all of the logistics for our programs. I see firsthand how much of an impact our programs have on young women facing cancer.
What inspired you to become part of Pink Pearl? I am a close childhood friend of Pink Pearl's Founder, Elise Gasbarrino, and wanted to get involved in the organization. I believe in Pink Pearl's vision want to do my part to help young women facing cancer, as we all likely know someone who has been affected by cancer.
– Stephanie, Logistics Coordinator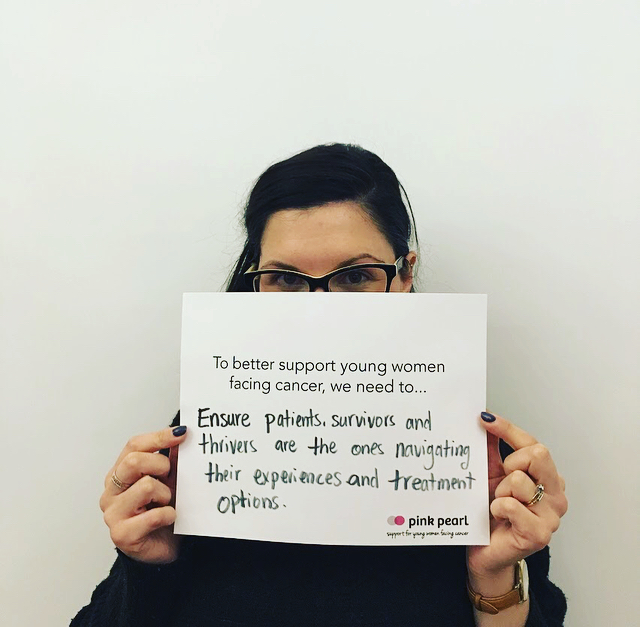 Volunteer Perspective: When Cancer Support Worlds Collide 
Cancer is a big part of my life and an important piece of my identity. It always will be. I am a childhood cancer survivor.
I've been active in the oncology world since before I can remember. As a young adult, I worked at Camp Trillium, a summer camp for kids with cancer and their families. I developed a strong background in therapeutic recreation, program development and facilitation.
Now (as an adult with a "real job"), I am employed as a Social Worker at Juravinski Hospital and Cancer Centre in Hamilton in the inpatient oncology unit for adults of all ages and cancers, outside of hematological cancers. My role is to support patients and loved ones as they navigate the medical system living with a cancer diagnosis. I also often support palliation and difficult conversations surrounding end of life. In spite of the very trying parts of my role, I am fortunate because this truly is my dream job.
It's through my volunteer role with Pink Pearl that my worlds blend together as a psychosocial professional and a therapeutic recreationist.
Over the past four years, I've supported the development and facilitation of programs for Pink Pearl's overnight retreats (eight in total, including the first ever two-night retreat this past March). To me, it's critical to provide support to our program participants in ways that are meaningful and important to them. The retreats are not about what I think is best or fun. Retreats are about what our young women with cancer identify as being important to them.
My work with Pink Pearl gives me a full heart and a deep sense of pride. It's so rewarding to be present at retreats with our program participants and to bear witness to their individual and collective stories. It's incredible to experience pivotal moments like the time one young woman felt safe enough to take off her wig for the first time in public. It's powerful to watch forever-friendships form, or to hear a young woman say "I totally get it" to another woman (and mean it). For me, enabling our young women to confidently tell their stories is a gift. I am filled with gratitude for these witnessed moments of strength in vulnerability.
When our women thank me for what I have given to them, I become slightly awkward. The truth is that they have no idea how much they have given to me. Pink Pearl is a family like no other—one I will hold in my heart forever.
– Ashley Mikitzel, Retreat Coordinator and Psychosocial Support
Meet Sarah Andrews
Scholarship & Family Support Day Co-ordinator
Education: University of Windsor – Bachelor of Arts in Honours Psychology and Women's Studies Niagara College – Social Service Work, 2nd Year Student
Career: Women's Advocate at the YWCA
Hometown: Fenwick, Ontario
I joined Pink Pearl because… I joined Pink Pearl because my grandmother has beaten breast cancer twice in my life time. I love surrounding myself with women who are strong and persevere through anything that life throws at them.
I am most proud of… I am most proud of maintaining my high average in school, while working 25+ weeks and volunteering with Pink Pearl and volunteering at schools with helping kids learn how to read.
My hero is.. My heroes are my grandmother and my mother. (The picture is with my grandmother)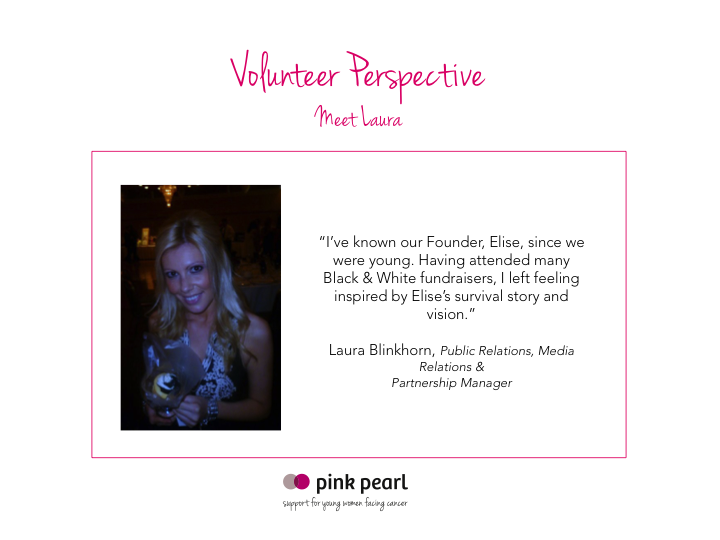 Meet Laura Blinkhorn
Public Relations, Media Relations & Partnerships Manager
Education: Seneca College – Post-Graduate in Corporate Communications Brock University – Honours Bachelor of Tourism Administration
Career: Senior Communications Advisor, Federal Economic Development Agency for Southern Ontario (Government of Canada)
Hometown: Thorold, Ontario
I joined Pink Pearl because… I've known our Founder Elise since we were young. I've attended many Black & White fundraising events with friends over the years, and left feeling inspired by Elise's survival story and vision. I decided to use my strengths in communications and media relations to help spread the fantastic work of Pink Pearl Foundation in my spare time!
I am most proud of… Personally: I am most proud of my 2.5 year-old and 11 month-old little boys, Callum and Haddon. Professionally: I am proud to have had the privilege of planning and executing the first funding announcement for the Right Honourable Justin Trudeau in January 2016 at the University of Waterloo.
My hero is.. My hero is my lovely friend currently battling melanoma. I'm in awe of her always, but especially in awe of her in the face of cancer. She's a supermom to her sweet 2-year-old girl, a devoted wife, and a truly selfless friend… all while balancing treatment and the unexpected tribulations of a cancer diagnosis.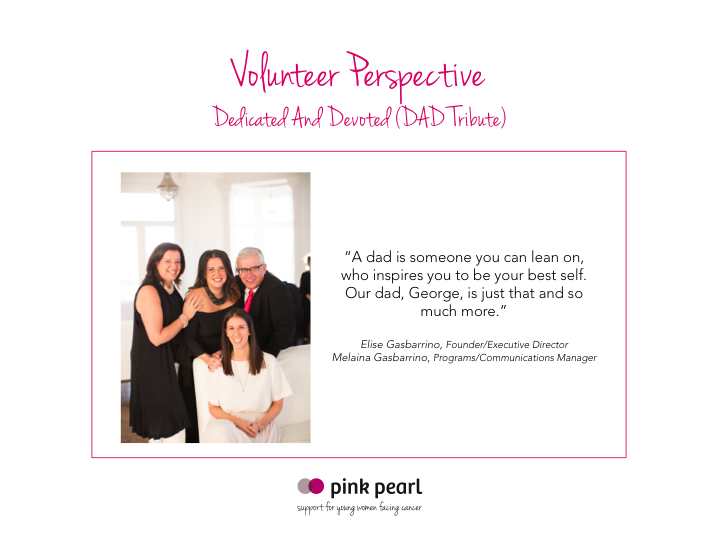 Dedicated And Devoted (DAD Tribute)
A dad is someone you can lean on, who inspires you to be your best self. Our dad, George, is just that and so much more. Through Elise's diagnosis and journey through ovarian cancer, our dad was there whenever we needed talk (with our mom too), and he continues to show strength and support for us in all that we do. Years ago, when Elise first announced she wanted to give back to Juravinski Cancer Centre and host our annual fundraising event, he (nor we!) ever thought Pink Pearl could become the organization it is today, helping hundreds of young women and their families through cancer. With each and every program and event he attends, his eyes light up and his face grows proud. Now, as a Pink Pearl Foundation Advisory Board Member, our dad is taking on a larger role within the Foundation. We couldn't be more excited for him to be part of our growing team. Happy Father's Day to you, Dad – we love you!
Elise Gasbarrino, Founder, Pink Pearl
Melaina Gasbarrino, Programs & Communications Manager, Pink Pearl