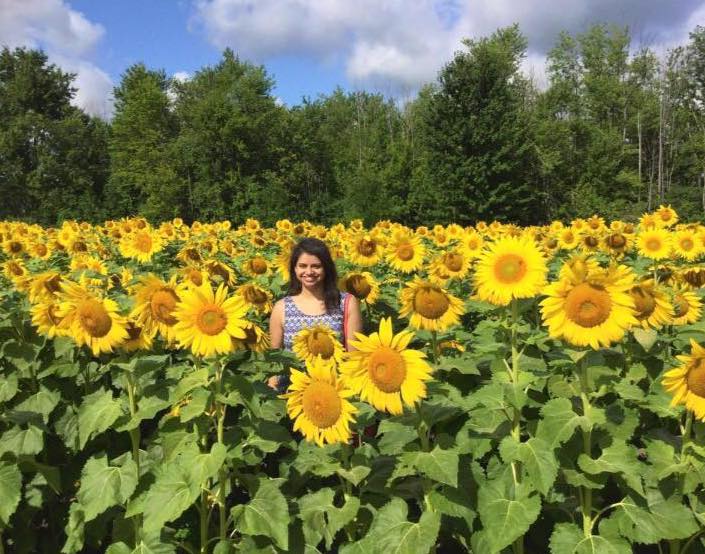 "I am blessed to say I am a multiple-time young adult cancer survivor. My journey with cancer began when I was a teenager with a primary diagnosis of high-grade osteosarcoma (bone cancer) throughout my entire left leg.
Several years later, while in university, I was diagnosed with a large, aggressive metastatic recurrence in my lungs with poor prognosis and palliative care treatment, which I have dealt with on and off throughout my twenties. After many long inpatient chemotherapy rounds, hundreds of blood transfusions, complex reconstructive surgeries, experimental treatments, many years of intensive physiotherapy and beyond, I am thankful to have reached remission beyond all odds. Having dealt with kidney failures, mobility challenges, chronic pain, ongoing medication needs and so forth throughout the years, the side effects due to treatments and complications can be additional stressors, like many other young adult survivors experience; however I am now living… truly. I carry and try to share a genuine appreciation for life these days, as well as a sincere gratitude for all those who have touched my life and supported me along the way.
Pink Pearl Foundation is a beautiful example of a part of life I only get to experience because I am a cancer survivor. This community of young women has been such an important part of my healing journey over the past few years. Although physical health needs were addressed well throughout my cancer journey, the emotional and social needs were neglected. Amid life-or-death circumstances, these elements of well-being did not seem to be priorities to my oncology/medical team, which is understandable, but still posed difficult challenges for me. A significant portion of my teen years and life into my twenties revolved around experiences that were atypical for my friends, my family, and my culture. Cancer was all-consuming. While peers were celebrating graduations, travels, relationships, successful careers, and other such milestones, my young life instead revolved around hospitals, spending time in bed at home, losing my independence, and at the core of it all, just trying to survive. I felt isolated and different. Even after treatment ended, I only wanted to sit in the back, unnoticed, not caring to speak up, not thinking I had any voice in this world that was so different from my own experiences and perspectives coloured by cancer. It was a given that I would never mention "the C word" anywhere.
Another young female survivor, who I now consider a great friend for life, introduced me to Pink Pearl a few years ago. I was a little nervous about attending my first retreat – how "on" and vulnerable I would have to be that weekend. I was thankful to have my survivor friend as my roommate for the retreat and she repeatedly reassured me that it would be a relaxing weekend of fun, friendship, and food. I walked into the room at my first retreat and immediately felt the warmth and excited energy in the room. As the incredible Program Team introduced themselves and the expectations for the weekend, they were so genuine, caring, and funny; they felt like my best girlfriends right away. I felt myself relax into the space. As we went around the room introducing ourselves, I knew God had placed me right where I was meant to be. Hearing the health and personal stories of these young women, I finally felt understood. It was a fluid, safe, inviting space for tears, cheers, sadness, hugs, shared pain, and laughs happening almost simultaneously among the group. We felt like we knew each other so well already… and it was still the first hour! It's amazing how Pink Pearl facilitated these connections.
Throughout the weekend, these conversations and relationships only deepened over meals, games, walks, educational sessions, discussions, creative outlets, and friendship. It was refreshing to be so vulnerable, real, raw, and open with other young women who just "get it." At the same time, cancer is not our whole story; we're still young and want to celebrate living and experience moments of joy, regardless of where we are on our health journey. The retreat did this perfectly and it genuinely felt like an amazing girls' weekend away in Niagara-on-the-Lake. I have been blessed to attend a few other retreats since then and the bonding only gets deeper and better each time.
As a young survivor, I struggled with processing and accepting my journey. I lived the cancer part of life as internally and inward as possible. Through support experiences, like my time shared with the Pink Pearl community, I am forever changed. Feeling understood, being empowered, and gaining the confidence in my voice and that I have a story to share, I have now become very active in the community as a speaker; a patient and family advocate; peer mentor and survivor supporter; and member of a national governmental advisory committee to help bring about change to the cancer patient/survivor experience. I now have the privilege of sharing my story and advocating for others – all this from a young girl who never used to say the word "cancer."
I am so thankful to Pink Pearl for providing young female survivors with such an incredible community that intersects perfectly with the values I try to convey in life – hope, faith, love, supporting one another, giving back, inspiring change, and true compassion. Ultimately, we are made to be in community. Many of us lose that so suddenly as young women diagnosed with cancer. Pink Pearl recognizes this and not only provides us a thriving community, it goes beyond that – we are a family, a true sisterhood. I couldn't be more thankful."
– Vinesha, Program Participant