Participant Perspectives
Participant Perspectives are a way for our program participants to share with you what it means to belong to Pink Pearl Foundation, and the benefits of participating in our programs…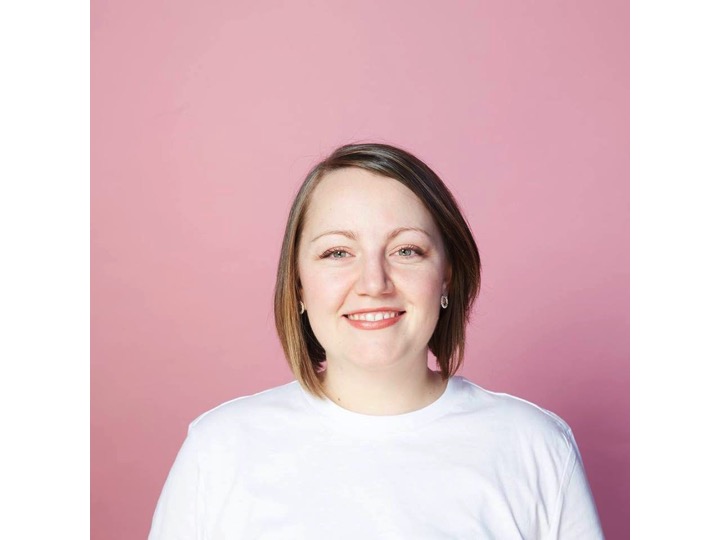 "Being diagnosed with breast cancer in my 20's was extremely isolating and lonely. I didn't know anyone else with cancer and had no one in my life that could relate to what I was going through. I craved conversation with other young adults with cancer, but in all of my appointments and support groups I was by far the youngest.
I have a great family who dropped everything to be by my side throughout my treatment, but it wasn't enough. This is exactly why organizations that focus on connecting young cancer patients are so important. Our needs and struggles are different than those that are middle-age and older. As young women, a lot of us are just starting our careers or romantic relationships. Some have young children or the desire to get pregnant. We are at the beginning stages of adult life, left to deal with cancer and the lasting side effects from treatment for years to come.
I'm so grateful to my AYA Nurse for recommending Pink Pearl Foundation to me. Through Pink Pearl, I've met incredible women that inspire me every day. I also met my "breastie" at the first overnight wellness retreat that we both attended. Her friendship has made my life so much better and I know we will be lifelong friends. I left that weekend feeling supported and fortunate to be a part of such a strong group of women. It is really special to be surrounded by people who just get it without having to explain anything.
Shortly after my first overnight wellness retreat, I knew I had to volunteer with Pink Pearl to help other young women feel supported throughout some of the worst years of their life. I currently volunteer with the Programs Committee, organizing Local Socials with my breastie to bring women together to share, laugh and have fun with one another. It's been so fulfilling to give back to an organization that has continually supported me since my cancer diagnosis."
– Emily Piercell, Program Participant & Volunteer 
@emilypiercell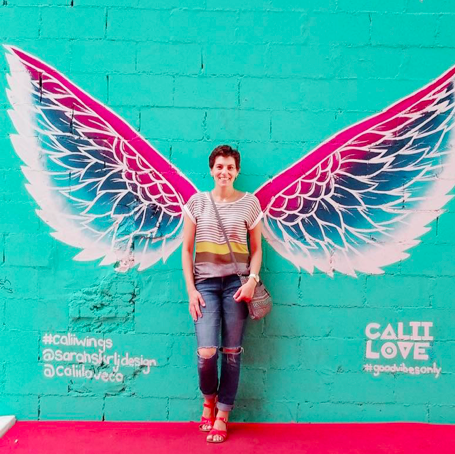 "I was only a few chemo treatments in when my youngest child learned I had cancer. It wasn't like we hid it from him. We said, "Mamma is sick. She's taking medication that will make her sick and she'll lose her hair". I was very open about what the side effects might be and we talked about what could be done to help. But one day he overheard a friend asking about my cancer and he froze. I felt like I had shattered his world.
There was also a conversation I had with my oldest son where I ended up crying. I felt horrible that I let my fear show through. The last thing I ever want as a mom is for my children have to worry or to be scared. I felt like instead of protecting them from fear, I was causing it.
For me, the hardest part of cancer is not the 'fear of dying' part, but fear of all the hurt that will be left behind. The moment I found out I had cancer, my mind went straight to calculating how old my kids will be if I die. Five years from now? Twenty years from now? What will the impact be on them? I remember friends who lost their parents at a young age (or any age really) talking about how much they wished their mom or dad was still here.
As a woman in my 30s with children, I didn't really have anyone to connect with who could understand how I felt. When I found out about Pink Pearl Foundation through Wellwood, I decided to apply to participate in an overnight retreat—one of the best things I have done!
Prior to the retreat weekend, I was paired up with a roommate. We got together beforehand and really connected. The Foundation did a fantastic job of matching us up. I made a 'breastie' for life.
The overnight retreat weekend provided me with more opportunities to share my story. I truly felt like people understood. The other moms with cancer knew exactly the heartache I felt and offered some great advice. Pink Pearl also had resources for children available for participants to take home. I left the retreat weekend filled with hope.
This Mother's Day, my hope for my children is that as they watch and help me go through treatment, the experience will help them grow into even more empathetic humans."
– Marlena Sokolowska, Program Participant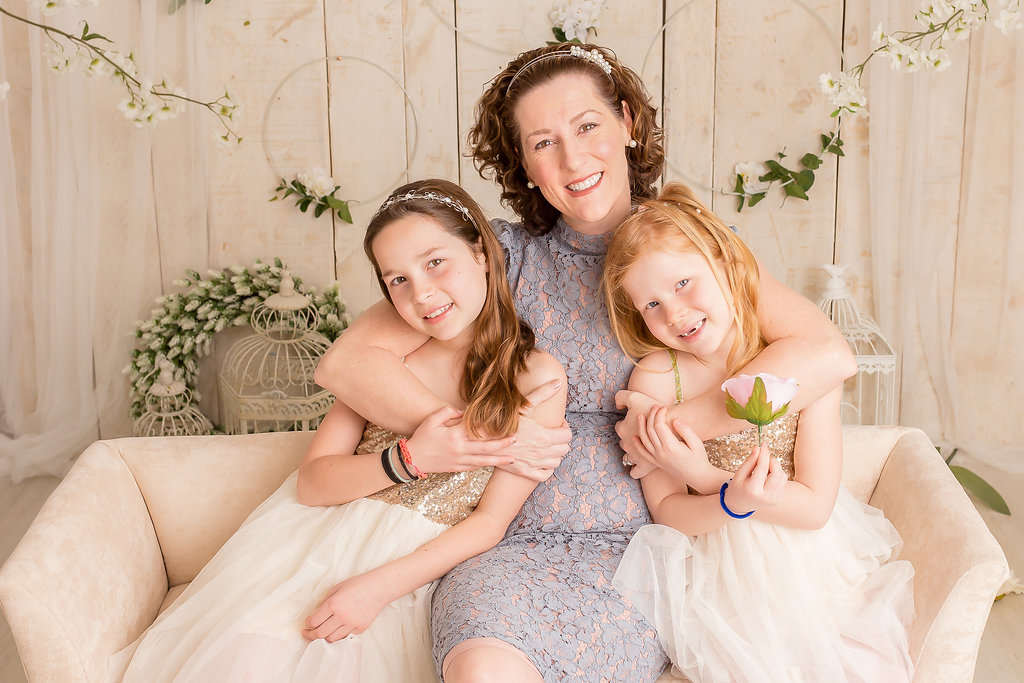 "Being a mom has so many emotions tied up in this one word: "mommy". From the first moment I knew I was going to become a mom, my life changed, just like the first moment the doctor says "you have cancer" changes your life. Being a terminal stage 4 breast cancer patient and a stay-at-home mommy both require a lot of patience, a lot of time, and a lot of unknown. Mommy to my three beautiful children Lindsay (9), Summer (6), and Blake (5), I'm filled with fear and joy every day. I'm constantly worried one of them will get hurt or sick and I want to make it all better.
When the fog lifted after my diagnosis, I realized it was time to figure out how I was going to get through all of this. Very quickly I discovered there is not much in terms of support out there for young women, let alone young women with children. When I asked my hospital for help, they gave me brochures that had pictures of women who looked like my mother on the front. I'm not 65. I knew I needed people who weren't invested personally, like my spouse, family, and friends, but knew firsthand the struggle I was facing. I needed people who looked like me.
Then one day sitting in the hospital waiting room, I saw a tiny postcard pinned to the bulletin board for a Pink Pearl Foundation overnight retreat in Niagara-on-the-Lake. A small grain of hope was planted. Even though I was so ill and barely walking, I knew I had to go and I am forever glad I did. Although I'm a mom, it's important to take care of myself too. I met amazing women, from the volunteers, and of course, Elise the Founder, who gave me something more than hope. I was in a room full of women who understood. Many of these women are now my very close friends. Sadly, some of them have passed, which in itself, is extremely hard, but the burden is lessened with the support of my Pink Pearl ladies. I still feel nervous going to events, but within minutes I feel a sense of love. No pressure but just a personal understanding with others who share the same fears.
As a mom, my number one concern is how the kids are doing. I worry that my time will run out before I have taught my three kids everything I want to. My biggest fear is that they are so young they might not remember me. But I'm trying to make memories with my children, like ones on Mother's Day, which is such a special day that includes eating their homemade pancakes and admiring their art pieces that read, "I love my Mommy".
This Mother's Day, my wish is to spend many more special days with my family to make these memories and celebrate being their mommy."
– Kate Fraser, Program Participant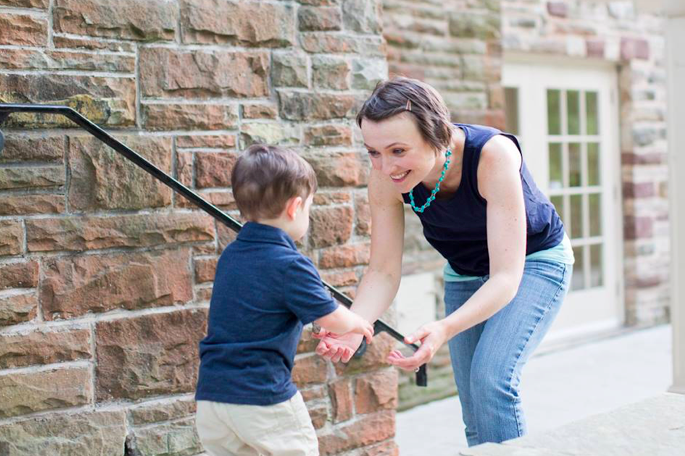 "A new mom and a cancer patient all on the same day. I went into early labour with my son who was born at 33 weeks via emergency c-section, at which time, the doctors found a mass on my cervix, which was later diagnosed as stage 2B cervical cancer. Unfortunately, it had also spread to my lymph nodes. If the HPV vaccine had been around when I was young, I would not have been diagnosed with cancer. Since my regular pap tests missed it, had I not gotten pregnant, the doctors would not have found the cancer until it was too late, so in fact, my son saved my life.
Since then, I have been undergoing aggressive chemotherapy and radiation: 30 daily radiation treatments; 4 treatments of internal radiation; and 11 sessions of chemotherapy with my last one scheduled after my son's first birthday. "Hard" is not a strong enough word to depict the difficulty of facing cancer and parenthood at the same time, but I have been blessed with an incredible support system of family and friends, and my husband who has been the most exceptional father and partner.
After my diagnosis, I felt like I didn't belong anywhere. I couldn't relate to the issues in new-mom groups nor identify with those in cancer groups who had many more grey hairs than me. My midwife told me about Pink Pearl and it was nice to finally find a place to belong. The fall retreat was my first time away from my son and it brought me a source of connection, inspiration, and of course, a few tears. I could finally find a place to call home."
– Christa Wilkin, Program Participant
"A few months after giving birth to my daughter, Aria, I was diagnosed with breast cancer and non-Hodgkin's lymphoma at age 34. My son Chase was 4 at the time. My first thought was, "Oh my gosh, does this mean my kids are now at a higher risk of getting these cancers?" My heart breaks when I think about it.
Since my diagnosis in December 2016, I have had 5 biopsies, 6 scans, 2 surgeries, numerous appointments with 8 different specialists and have recently began radiation therapy. This was not how I imagined I would be spending my maternity leave! Eventually I made a decision to put Aria in a daycare as I couldn't take care of her and myself. The mastectomy I had in February left me with a lot of tightness and a limited range of motion in my shoulder and I still can't life Aria. I miss holding her. Like, really holding her tight and close to me. I miss wrestling with Chase. Sometimes I miss my kids even when they are right in front of me!
Learning about Pink Pearl Foundation has been a blessing. It's really nice to know that I am not the only woman in her 30s going through this. Through Pink Pearl, I have met others with similar experiences and now I don't feel so isolated. Happy Mother's Day to all the amazing moms out there!"
– Maja Gavrilovic, Program Participant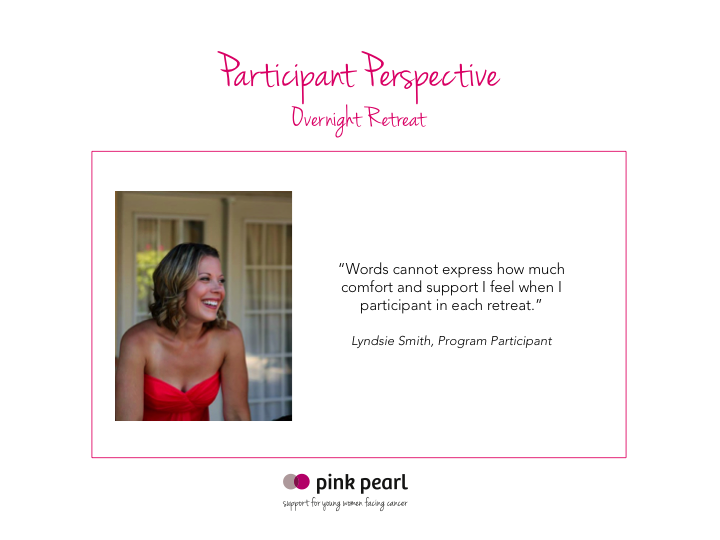 "A cancer diagnosis is a hard pill to swallow, no matter what age, type or stage. I was most definitely not prepared to hear the news at age 27 (uterine cancer), and then again at age 29 (ovarian cancer). During those long and lonely years, I was in and out of surgery after surgery. And now, though it appears my team has removed all of the cancer, I am left with chronic pain, and left to deal with significant changes to my life and body.
Thankfully, my clinic nurse noticed how mentally and emotionally burnt out I seemed, and suggested I look to Pink Pearl Foundation for extra support. Don't get me wrong, I am forever grateful for the unconditional love and support my family has shown me, but I needed a different type of support in this instance. I took my nurse's advice and attended my first overnight retreat in November 2015. I was totally out of my comfort zone and really nervous. I had never done anything like this alone before in my life.
Within minutes of walking in, I was welcomed with open arms and smiles, and landed a pretty awesome roommate (whom I now call my great friend). Words cannot express how much comfort and support I feel when I participate in each retreat. There is no judgment. All the women in attendance are there for the same reason. The icing on the cake is forming lifelong friendships with others who know exactly what you are going through.
Silly games, relaxation, meditation exercises, art therapy and even special guest speakers—Pink Pearl Foundation covers it all over a few meaningful days. I cannot thank Pink Pearl Foundation enough for all the thoughtful and hard work put into all programs, events and initiatives they host. I look forward to all the Foundation has to offer in the future!"
– Lyndsie Smit, Program Participant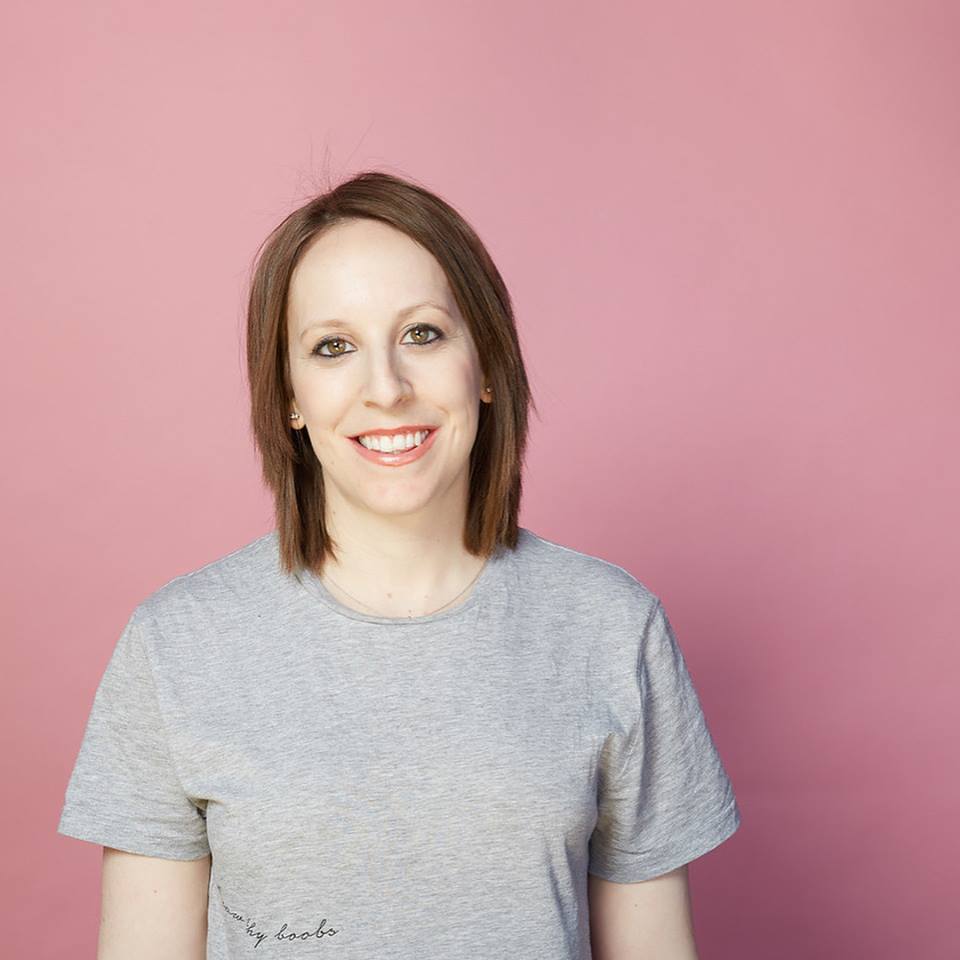 "In January of 2016, I was diagnosed with breast cancer at age 29. Being diagnosed at such a young age was a very scary and isolating experience to say the least. Not long after, I discovered Pink Pearl Foundation and its offered retreats. I had to sign up.
The overnight retreat gave me an opportunity to share stories and experiences with women who were going through something similar. It was such a great feeling to open up and chat with other young women—people who just 'get it'. I created friendships that I know will last longer than my cancer journey.
The retreat programming was amazing. It's a great mix of activities. For me, by far, the best part was meeting other young women battling cancer, listening to their stories, and feeling comfortable enough to share my story. I will definitely be returning to the Pink Pearl retreats and I look forward to the next one on November 25th!"
– Dory Kashin, Program Participant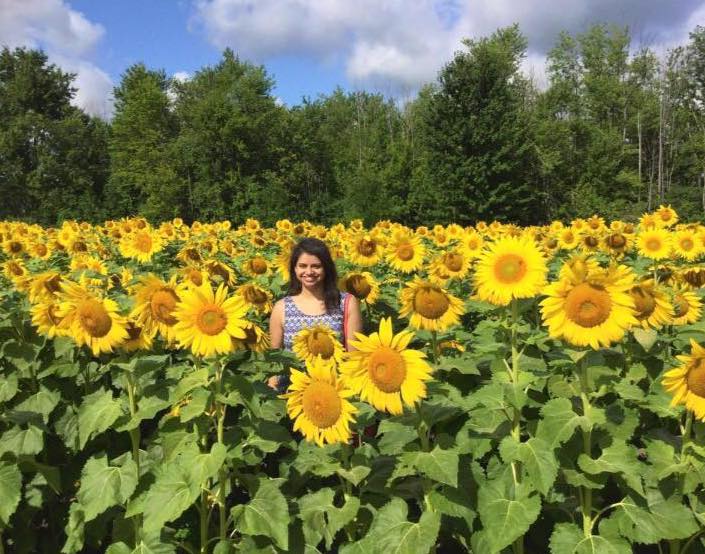 "I am blessed to say I am a multiple-time young adult cancer survivor. My journey with cancer began when I was a teenager with a primary diagnosis of high-grade osteosarcoma (bone cancer) throughout my entire left leg.
Several years later, while in university, I was diagnosed with a large, aggressive metastatic recurrence in my lungs with poor prognosis and palliative care treatment, which I have dealt with on and off throughout my twenties. After many long inpatient chemotherapy rounds, hundreds of blood transfusions, complex reconstructive surgeries, experimental treatments, many years of intensive physiotherapy and beyond, I am thankful to have reached remission beyond all odds. Having dealt with kidney failures, mobility challenges, chronic pain, ongoing medication needs and so forth throughout the years, the side effects due to treatments and complications can be additional stressors, like many other young adult survivors experience; however I am now living… truly. I carry and try to share a genuine appreciation for life these days, as well as a sincere gratitude for all those who have touched my life and supported me along the way.
Pink Pearl Foundation is a beautiful example of a part of life I only get to experience because I am a cancer survivor. This community of young women has been such an important part of my healing journey over the past few years. Although physical health needs were addressed well throughout my cancer journey, the emotional and social needs were neglected. Amid life-or-death circumstances, these elements of well-being did not seem to be priorities to my oncology/medical team, which is understandable, but still posed difficult challenges for me. A significant portion of my teen years and life into my twenties revolved around experiences that were atypical for my friends, my family, and my culture. Cancer was all-consuming. While peers were celebrating graduations, travels, relationships, successful careers, and other such milestones, my young life instead revolved around hospitals, spending time in bed at home, losing my independence, and at the core of it all, just trying to survive. I felt isolated and different. Even after treatment ended, I only wanted to sit in the back, unnoticed, not caring to speak up, not thinking I had any voice in this world that was so different from my own experiences and perspectives coloured by cancer. It was a given that I would never mention "the C word" anywhere.
Another young female survivor, who I now consider a great friend for life, introduced me to Pink Pearl a few years ago. I was a little nervous about attending my first retreat – how "on" and vulnerable I would have to be that weekend. I was thankful to have my survivor friend as my roommate for the retreat and she repeatedly reassured me that it would be a relaxing weekend of fun, friendship, and food. I walked into the room at my first retreat and immediately felt the warmth and excited energy in the room. As the incredible Program Team introduced themselves and the expectations for the weekend, they were so genuine, caring, and funny; they felt like my best girlfriends right away. I felt myself relax into the space. As we went around the room introducing ourselves, I knew God had placed me right where I was meant to be. Hearing the health and personal stories of these young women, I finally felt understood. It was a fluid, safe, inviting space for tears, cheers, sadness, hugs, shared pain, and laughs happening almost simultaneously among the group. We felt like we knew each other so well already… and it was still the first hour! It's amazing how Pink Pearl facilitated these connections.
Throughout the weekend, these conversations and relationships only deepened over meals, games, walks, educational sessions, discussions, creative outlets, and friendship. It was refreshing to be so vulnerable, real, raw, and open with other young women who just "get it." At the same time, cancer is not our whole story; we're still young and want to celebrate living and experience moments of joy, regardless of where we are on our health journey. The retreat did this perfectly and it genuinely felt like an amazing girls' weekend away in Niagara-on-the-Lake. I have been blessed to attend a few other retreats since then and the bonding only gets deeper and better each time.
As a young survivor, I struggled with processing and accepting my journey. I lived the cancer part of life as internally and inward as possible. Through support experiences, like my time shared with the Pink Pearl community, I am forever changed. Feeling understood, being empowered, and gaining the confidence in my voice and that I have a story to share, I have now become very active in the community as a speaker; a patient and family advocate; peer mentor and survivor supporter; and member of a national governmental advisory committee to help bring about change to the cancer patient/survivor experience. I now have the privilege of sharing my story and advocating for others – all this from a young girl who never used to say the word "cancer."
I am so thankful to Pink Pearl for providing young female survivors with such an incredible community that intersects perfectly with the values I try to convey in life – hope, faith, love, supporting one another, giving back, inspiring change, and true compassion. Ultimately, we are made to be in community. Many of us lose that so suddenly as young women diagnosed with cancer. Pink Pearl recognizes this and not only provides us a thriving community, it goes beyond that – we are a family, a true sisterhood. I couldn't be more thankful."
– Vinesha, Program Participant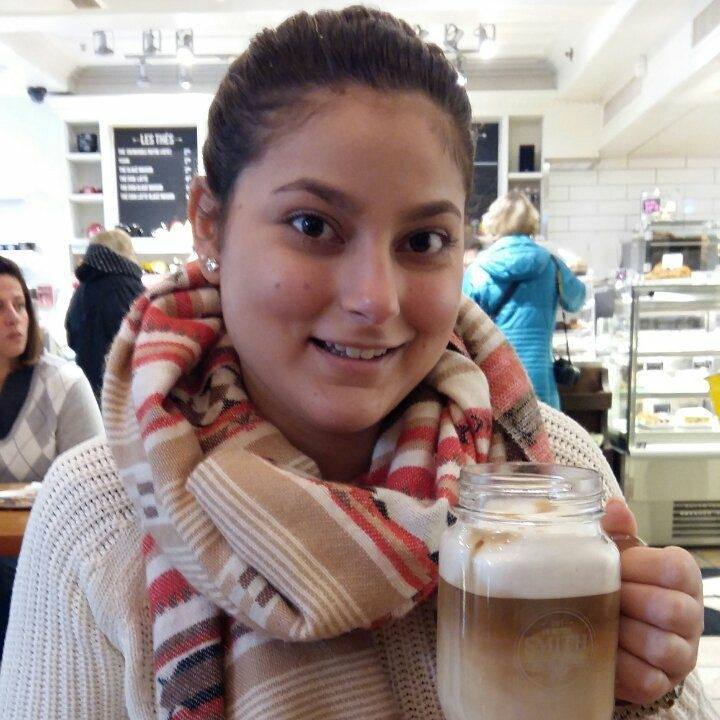 "I was 17 years old when I was diagnosed with Acute Lymphoblastic Leukemia (A.L.L.). On December 1, 2014, I arrived early morning to my high school, St. Joseph's College, for soccer tryouts. After running a few warm-up laps, I fell really short of breath. My mom was called and immediately rushed me to emergency at Toronto General Hospital. After running blood tests, the hematology team delivered the news. That afternoon, my family came to my side to learn what the next steps of treatment would be. I was admitted into Princess Margaret Cancer Centre and began one month of intense chemotherapy (part of my two year treatment program). Prior to my diagnosis, I was a very healthy and active young woman, which is why the diagnosis came as a shock to everyone, especially me.
In the middle of my last phase of treatment, the maintenance phase, I was preparing to go back to school. I was accepted to George Brown College for Hotel Operations Management, a two-year diploma program. A Research Analyst at Princess Margaret, Seline, suggested that I apply for the Pink Pearl Foundation Scholarship. I had not heard of the Foundation, so I did some research and was astonished by the work they do. I submitted my application and was fortunate to be named a scholarship recipient in April 2016. It meant so much to have extra help financially. I used the funds to purchase my first year books and other materials needed. My parents have saved for my post-secondary education since the day I was born, but receiving this scholarship meant having some extra help to stand on my own financially once I graduate.
Upon receiving the scholarship, Pink Pearl's Founder, Elise, invited me to attend the organization's spring overnight retreat. It was my first retreat with any organization through my cancer journey so I was a little nervous at first, but ultimately so happy I attended. I met many different women and learned a lot. Being able to open up in such a safe environment meant so much to me. I hadn't realized how important it was to connect with other people going through similar circumstances. Although we share different cancers, we are still connected by one thing—our strength to fight. I am grateful for Pink Pearl Foundation and all that it provides. I look forward to connecting with more young women at future retreats."
– Adriana Lombardo, Program Participant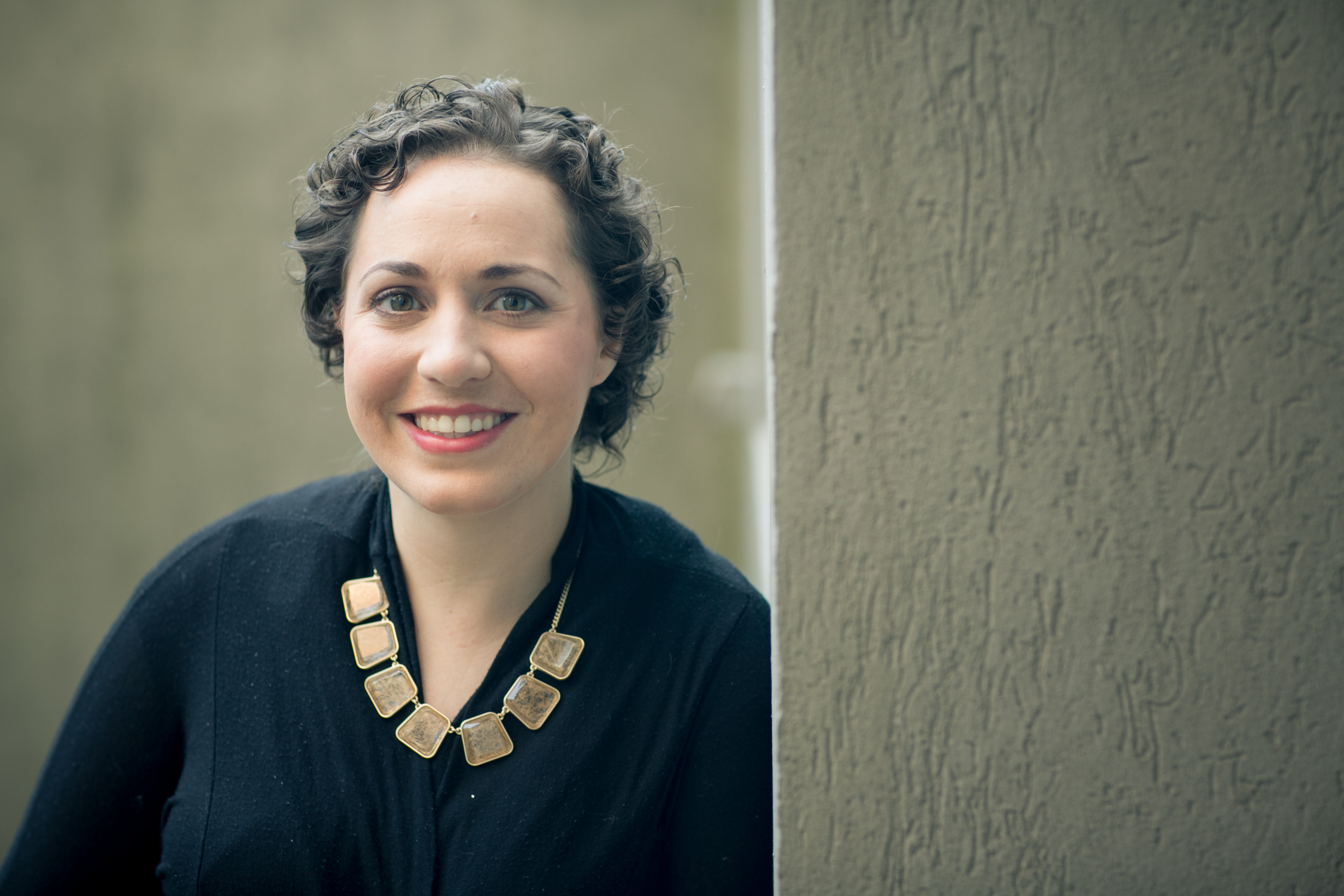 "I never thought that a few days after turning 28, and only six months after getting married, that I would battle a high-grade invasive and aggressive type of breast cancer. My oncology nurse at Walker thought that a young woman like me could benefit from the support that Pink Pearl Foundation has to offer. I contacted them right away to learn more. Shortly after joining, I decided that I wanted to attend the Foundation's summer Family Sailing Day event with my husband.
We arrived at the marina in Port Colborne excited to meet the other Pink Pearl participants and their supporters. Right away, we made conversation and met people's family members, all excited for our sailing adventure together. The sailboat captains (who volunteer their time and boats) all warmly welcomed us all aboard. Very quickly, open dialogues of each of our cancer journeys were being shared. Connections and new friendships formed instantaneously. The supporters soon realized how we were all dealing with similar challenges and obstacles brought on by a loved one being diagnosed with cancer.
Sailing on this special Family Sailing Day allowed me to feel like a participant rather than like a patient. This sailing trip provided us with an escape from the hospitals and cancer centres and from the darkness, fear, worry, stress, and physical and mental exhaustion that cancer causes. Instead, our focus was immediately shifted to the brightness of life, freeing our souls to bask in nature, all which helped calm mind and body. The wind blowing against my face and the sun bathing on my body made me feel alive!
At one point during the sail, the captain of our boat, Phil, allowed me to steer the vessel. Finally I began to feel a sense of control that cancer had taken away from me. This surreal moment combined with a supportive environment filled with compassion and hope from other Pink Pearl participants and their caregivers, helped give me the strength I needed to continue my cancer journey. After our sailboats docked back at the marina, we all enjoyed a picnic style lunch together under the pavilion. More conversations ensued and additional connections were made with these inspiring women. My husband and I also formed a relationship with our captain and his wife and that friendship still continues to this day. The following summer, my husband and I quickly registered again for the annual Family Sailing Day and we were back on board with the same captain, Phil, from our initial sail!
I would highly recommend attending Family Sailing Day as it provided us with a relaxing two-hour sail with fellow supporters who truly "get it". I felt less alone in navigating through the scary, confusing, and overwhelming cancer world. Thank you to the dedicated team of over 30 volunteers at Pink Pearl Foundation for everything you continue to do for us all. I am honoured to be part of this important and amazing organization. I look forward to attending future events with you ladies!"
– Britiney Turasz, Program Participant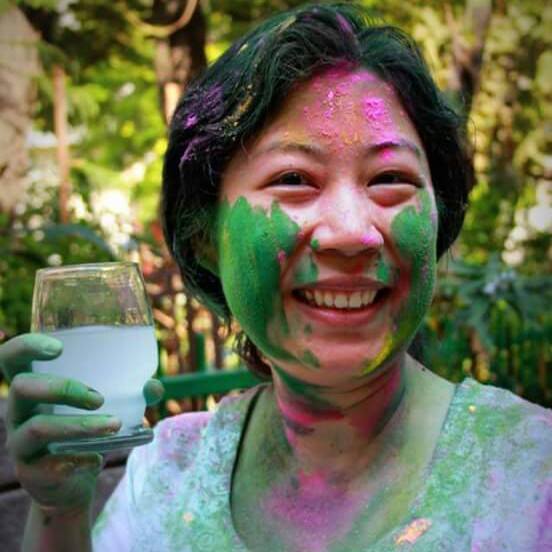 "I was diagnosed with non-Hodgkin diffuse large B cell lymphoma in my early 30s. I felt lost and alone. I was the first in my family and among my friends who had cancer. I had no idea how to handle it or who to ask for non-medical advice. I was focused so much on treatment that I had overlooked the post-treatment. I became afraid to plan my life after cancer. I had completed six chemo therapies and 15 radiation treatments just before the holidays in December 2010, and then my cancer took a three-month hiatus before returning in March 2011. For the next five months I was an in-patient for eight high-dose chemo treatments, multiple blood transfusions, and a stem cell transplant. After completing all of these treatments, I was living with side effects from chemo, shingles, and depression. It took me about a year to regain my mental control from depression. I joined a local wellness centre for different types of restorative exercise classes and information sessions. The cancer survivors in the class were typically much older than me, talking about their grandchildren and retirement lives. There was a cancer support group for young females that existed at the time, but it was cancelled after a few sessions due to low participation. And that's when my oncology nurse practitioner introduced me to Pink Pearl Foundation.
In November 2013, I attended my first Pink Pearl fall overnight retreat in Niagara-on-the-Lake. I was nervous going into it because I knew absolutely no one, but it ended up being the most relaxing and informative weekend. I felt safe to share my issues without judgement. The genuine giving and caring from this close-knit community truly fed my needs. I attended more Pink Pearl programs, such as Family Support Day, where I brought my family and friends to experience adventurous activities like sailing, stand-up paddle boarding, and herbal walks. I also learned that Pink Pearl hosted Local Social events, gathering young women with cancer together for a night of bonding over social activities like ping pong and stand-up comedy.
In 2015, I attended to the 9th annual Black & White with a Touch of Pink fundraising event as a program participant. It was an extravaganza! My appreciation toward Pink Pearl's support grew even stronger. I was overwhelmed by the Foundation's commitment to creating support programming for young women like me to overcome the social and emotional challenges of cancer. I really wanted to give back to Pink Pearl, so I signed up to volunteer at the 11th annual Black & White with a Touch of Pink in April 2017. I also had the opportunity to thank attendees and express my sincere gratitude for their support. I shared my Pink Pearl experiences and the impact it has had on my life with guests and also with other young women who are at the beginning of their cancer journey. Surprisingly, this volunteer role also allowed me to walk around and enjoy the food stations, specialty cocktails, prize games, silent auction and live entertainment. The evening was indescribable, and it took my Pink Pearl experience to the next level. Thank you, Pink Pearl Foundation for changing my outlook to a positive one—cancer with a TOUCH OF PINK."
– Lilian Yip, Program Participant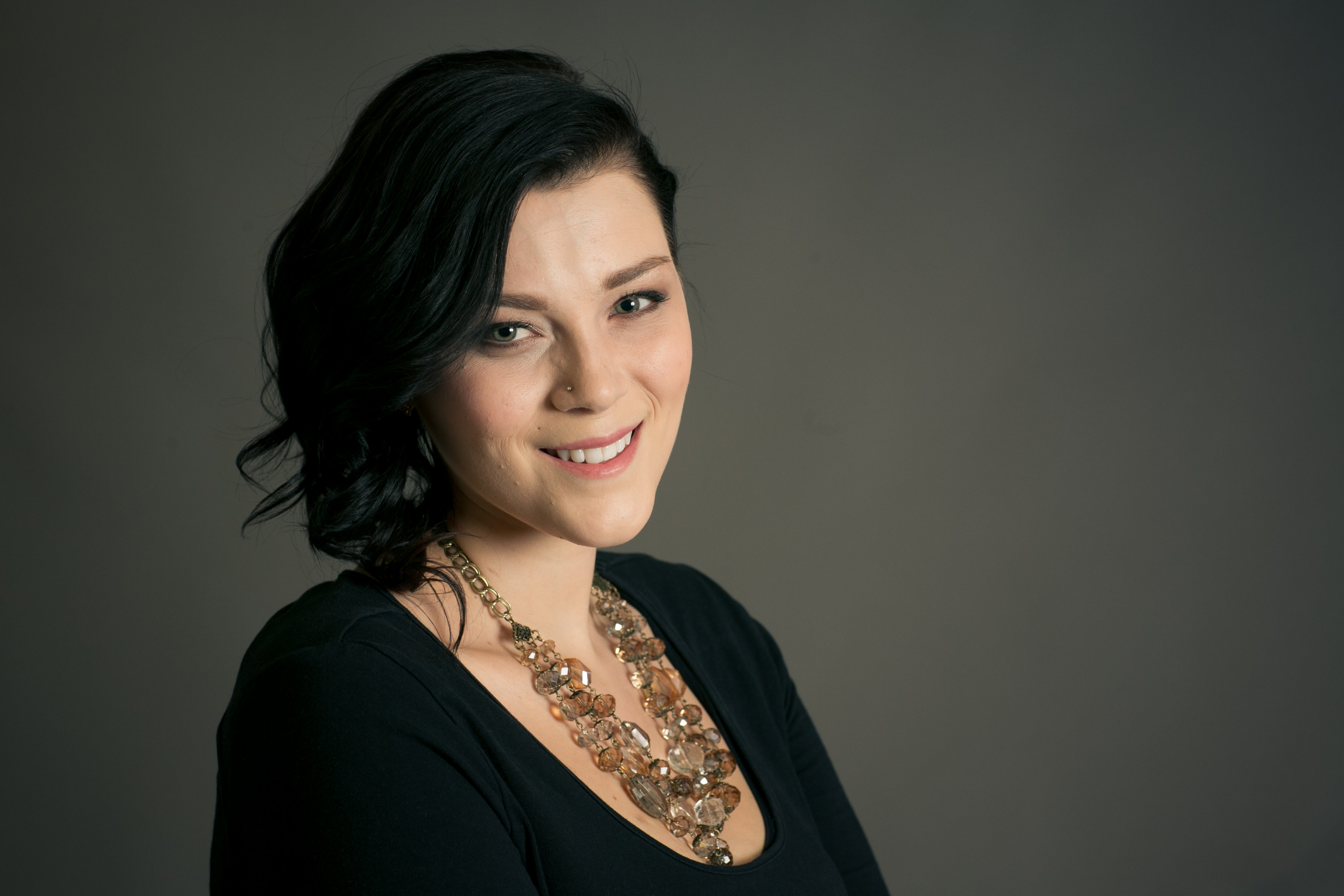 "My name is Sierra Collina and I'm a 25-year-old, two-time cancer survivor. My very long cancer journey began with a diagnosis of Ewing Sarcoma at the young age of 15. With zero knowledge cancer, this was a huge shock and adjustment for my family. I went through 12 months of chemotherapy, six weeks of radiation and a major surgery to remove my tumour and my sixth and seventh ribs. I was then in remission and able to get back to a somewhat "normal life". What most people don't understand is just because I am in remission does not mean I am 100% back to my normal self. This was a real struggle for not only me, but for my family and close friends.
I was cancer-free for two and a half years, in school again and back to work, when I was hit with another shock—a diagnosis of secondary cancer—Leukaemia. Without being given a moment to comprehend why this was happening again, I was admitted to the hospital and told I would need a transplant. It was during this time very confusing time that my hospital social worker told me about a new program called Pink Pearl Foundation. She thought it was be good for me and my mom to attend the Foundation's very first retreat. I am so beyond thankful I did and I have attended retreats and events ever since.
Belonging to Pink Pearl has made a major impact on my life. I'm able to connect with women my age that have been through a similar situation, which can be very uplifting and inspiring. Throughout a cancer journey it is so important to know you are not alone, and that you can confide in other young women because they will truly understand the struggles of having cancer and the post long-term effects on your life.
One outstanding and memorable Pink Pearl initiative for me is the annual 'Black and White with a Touch of Pink' event held in Toronto every spring. It's a night to get all dressed up and mingle with new and old friends, and also to raise money and awareness in support of young women who might have to face this horrible disease one day. My favourite features of the event are the silent auction, the prize games, and the various speakers sharing their cancer stories and giving everyone a better understanding of the importance of cancer support.
Pink Pearl has and will always be a big part of my life. It has helped me become a more confident and positive cancer fighter and survivor."
– Sierra Collina, Program Participant